VITAS Values, Working at VITAS
Applying Hospice Skills and VITAS Values to the 2017 Hurricanes
Responding with Calm, Dignity and Values
The way VITAS hospice teams bring calm and dignity to family situations that often become fraught with anxiety and uncertainty when they are faced with terminal illness—that is the way VITAS employees approached the challenges and devastation of hurricanes Harvey and Irma.
They stepped up and turned two of the company's values—"Patients and families come first" and "We take care of each other"—into action.
The stories in the video above touch on only a few of instances of the caring that occurred throughout Texas, Florida and across the country as VITAS employees opened their hearts, wallets and even their homes to take care of each other.
After Hurricane Harvey's historic flooding in Houston, VITAS employees tasked with caring for Houston patients near the end of life and their families suddenly needed help to care for their own families. VITAS staff from offices in Fort Worth, Dallas and San Antonio, who had been spared storm damage, voluntarily headed to Houston to ensure uninterrupted care for Houston hospice patients and their families—and to take care of each other.
The VITAS national management team stepped in as well. They arranged to borrow from the company's fleet of delivery trucks, usually filled with durable medical equipment like hospital beds and oxygen tanks for patients, and fill the appropriated trucks with non-perishable items like water, food and personal hygiene products for employees and patients.
Cleaning up in Florida and Georgia
Even before Houston had recovered, Florida and Georgia were battening down for Hurricane Irma. VITAS cares for more than 8,500 patients from 11 offices throughout Florida and in Atlanta, Georgia. When Irma left a trail of damaged buildings, flooding and millions without power, the VITAS values were right behind, ready to make a difference.
VITAS hospice teams from Miami to Jacksonville put patients and families first, quickly resuming care for existing patients and bringing new patients on service. The company assisted Florida employees with critical and emergent needs such as food, water and medical aid.
"The level of dedication and compassion our VITAS teams demonstrated during these devastating storms explains why VITAS is the nation's leading provider of end-of-life care," says VITAS CEO Nick Westfall. "The nationwide assistance of VITAS staff who lent many hands to ensure continuous operations says it all: By pooling our impressive resources and skills, VITAS can overcome any challenge."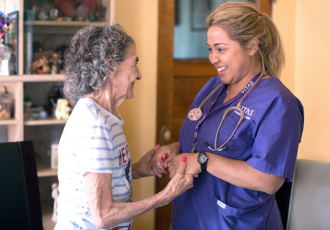 Choose a Career with VITAS
We offer a variety of full-time, part-time and per-diem employment opportunities. Employees earn competitive salaries and have the flexibility to choose a benefits package suitable to their own needs and lifestyle.


See Current Opportunities