Nurses
Career Paths and Opportunities for a Hospice Nurse

Whether you want to directly care for patients for the duration of your career or use your experience to advance toward other roles, hospice nursing offers those opportunities.
First, the basics: at VITAS, the hospice nurse is a pivotal member of the interdisciplinary care team, responsible for identifying the physical, psychological, social and spiritual needs of the hospice patient and their family.
The registered nurse initiates the appropriate intervention and support for the patient and family upon admission to VITAS and provides a continuously appropriate, comprehensive and responsive plan of care. VITAS nurses must be licensed by the state in which they apply to work and have had a minimum of two years' experience in hospice, home health or community health in the last five years.
Direct Patient Care Opportunities
Having a state-approved license and an associate or bachelor degree in nursing can be your ticket to a hospice nurse career path that is a perfect fit for your interests, abilities and aspirations. There is ample opportunity for an RN who prefers to work in a facility, or for one who prefers the autonomy of working independently in the field by visiting patients in their homes.
Hospice RNs can work in a variety of settings:
Private homes
Nursing homes
Assisted living communities
Inpatient units or contract beds.
Hospice RNs may work with patients who are geriatric or pediatric; they may work with a patient who has no family or outside support, or they may cope with the input and concerns of a devoted caregiver, a rotating assembly of distant relatives, a grieving spouse, small children and more. Positions can be full time, part time, per-diem/PRN, on-call, pool, runner, after-hours and other work schedules.
Opportunities Outside of Direct Patient Care
After gaining experience as a direct patient care nurse, your career trajectory can lead to opportunities far removed from the bedside, including:
Executive leadership
Sales and marketing
Case management
Team leader
Call center
Healthcare quality
Staffing
Specific Roles and Career Paths
Scanning a nationwide list of job openings with VITAS Healthcare, the following basic hospice nursing positions come up: RN case manager, RN home care, RN home care pediatrics, RN nursing home, RN inpatient, RN contract bed. Also on that list are more specialized positions.
Consider a specialized nursing career path
Admissions liaison: Assigned a specific facility or location, they educate healthcare professionals about what hospice has to offer their patients. The goal is to develop consultative relationships with that community that results in appropriate hospice referrals. Previous healthcare sales or service experience preferred; previous hospital, physician practice, LTC or ALF experience highly preferred; strong presentation skills and excellent interpersonal skills required; demonstrated capacity to learn clinical knowledge, VITAS pain and symptom management guidelines. Bachelor's degree preferred; RN preferred but not required.
Performance improvement specialist (PIS): Assesses and facilitates VITAS' compliance with Medicare/Medicaid regulations, state licensure laws, VITAS policies, and applicable regulatory/accrediting bodies. The PIS also supports various performance improvement activities. Credentialed and licensed healthcare professional preferred; Certified Professional in Healthcare Quality preferred; knowledge of hospice operations and performance improvement concepts preferable; experience in data collection and analysis, basic statistics and tools; excellent communication and facilitation skills; organized, detail oriented, experienced with spreadsheet and word processing programs. Bachelor's degree in nursing preferred.
Patient care administrator: Oversees the clinical and financial operations of the interdisciplinary team, ensures care is provided to the ultimate satisfaction of patients and their families by confirming clinical appropriateness and quality of patient care according to Medicare regulations. Four years of management experience and two years of home health experience preferred. Current and valid RN license; bachelor's degree required; master's degree preferred.
Admissions nurse: Visits patients and families who have been referred to or are considering hospice. Goes to homes, nursing homes, hospitals, emergency rooms, etc., to explain VITAS services and philosophy in order to facilitate the admission of appropriate patients. Must have two years' experience as an RN in acute or sub-acute care; knowledge of clinical manifestations of diseases and ability to develop VITAS-specific clinical knowledge; previous oncology and sales experience preferred.
Admissions manager: Manages monitors, coaches and mentors the admission nurses (see above). Constructs strategies and plans; coordinates staff and schedules; manages customer service and referrals to admission goals; recruits and retains admissions team. Must have hospice, oncology and/or home care experience and a minimum of 1–3 years' management experience in a healthcare organization; current RN license in the state.
RN team manager or nurse manager: Supervises an interdisciplinary team while assuring continuity of care for patients/families. Coordinates additional community resources involved in the care of any patient being cared for by the team. Maintains patient records; mentors staff in clinical issues, documentation, team problem solving and customer service. Oversees staff and volunteer scheduling and productivity. Two years' supervisory experience or equivalent in a healthcare organization; knowledge of the principles and practices of primary medical and nursing care, with at least a working knowledge of oncologic nursing and palliative care; understanding of the interpersonal dynamics operative within the working relationships of an interdisciplinary healthcare team; knowledge of the process of dying and bereavement. Reliable transportation with appropriate license and insurance coverage for driver and passengers. Current and valid RN license; bachelor degree preferred.
RN continuous care staffing manager: Develops and evaluates the staffing resources that supply shifts of continuous care when needed to support patient care teams. Requires two years' management experience, two years' supervisory experience; one year staffing management preferred; organized self-starter with excellent time management and interpersonal skills; ability to handle multiple tasks simultaneously; may handle duties of staffing coordinator; computer literate; typing skills; able to speak effectively to groups. Current and valid RN license; bachelor degree preferred.
RN Telecare supervisor: VITAS Care Connection Centers are call centers that provide customer service and medical advice and dispatch home visits to hospice patients and caregivers during alternate business hours. The supervisor provides clinical oversight and directs the triage staff. Must have knowledge of hospice care and services, management principles and techniques, prior customer service skill in call center or hospice environment. Valid state nursing license and bachelor's degree in nursing or equivalent experience.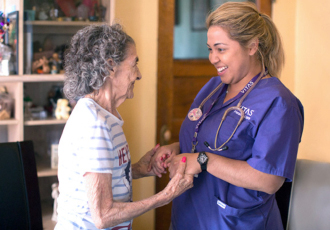 Choose a Career with VITAS
We offer a variety of full-time, part-time and per-diem employment opportunities. Employees earn competitive salaries and have the flexibility to choose a benefits package suitable to their own needs and lifestyle.
See Current Opportunities