Sales
VITAS Sales Career Opportunities

DMD Monica Cushion (right) stands with CEO Nick Westfall (middle) and Chief Compliance Officer and Executive Vice President Bob Miller (left) as she is inducted into VITAS' Leadership Council, a select group of top-performing managers and patient advocates who embody VITAS' mission and values.
Advance from Direct Hospice Sales to Leadership
When you work for VITAS Healthcare, there is always opportunity for career advancement. Members of the VITAS sales team often begin as sales representatives or community liaisons, and then move into new positions as they become familiar with VITAS culture and with a hospice sales career.
What does a sales rep do?
As a new VITAS sales representative, you work toward achieving sales-based goals. You have the opportunity to develop and hone your sales skills, beginning with the VITAS Evolution Sales Training Program, while developing a better understanding of the healthcare industry and the benefits of hospice.
Sales representatives educate healthcare professionals in their territory about how hospice, and VITAS, can benefit both the clinician and their patients. The reward is in enabling each provider you reach to make a difference for patients and families. A career as a VITAS sales representative means a career in making a difference.
What does a DMD do?
Sales representatives work under the guidance of supervising leaders called directors of market development, or DMDs. These experienced sales professionals provide support and guidance for teams of reps who work in the field. DMDs have additional management responsibilities, and help sales reps set and achieve goals. Sales representatives who demonstrate skill and passion for selling hospice can advance to the DMD position.
What does an RDMD do?
Above the DMD is a regional director of marketing development, or RDMD. This individual supervises all the DMDs in a region. They consider the big picture and long-run goals in educating about the VITAS way of providing end-of-life care. The RDMD actively works to create a culture of caring within a culture of selling. RDMDs are usually promoted internally after several years of experience as a VITAS DMD.
Depending on their interests and background, RDMDs can go on to be general managers, vice presidents of operations and above.
Help us make a difference
As a VITAS sales representative, you make a difference, both in your own career and in the lives of others. You help providers understand how hospice can help. You work for the nation's leading hospice provider in the fast-paced healthcare industry.
At VITAS, career advancement is not only possible, but encouraged. We want to help you be the best you can be. We want to provide the best end-of-life care to everyone who needs it. We want you to help us make a difference.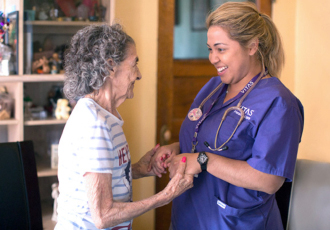 Choose a Career with VITAS
We offer a variety of full-time, part-time and per-diem employment opportunities. Employees earn competitive salaries and have the flexibility to choose a benefits package suitable to their own needs and lifestyle.
See Current Opportunities