Nurses, Specialty Care
Hospice Nurses Care for Complex Patients

While some hospice patients require routine care like pain management and wound care, others have more complex symptoms. VITAS regularly admits patients that have been in the ICU with intensive care. They may have trachs, vents or dobutamine drips. A VITAS patient with COPD may be on high-flow oxygen and see a respiratory therapist. The family may be struggling with finances and need a social worker.
VITAS brings those patients home, and our hospice nurses care for them in what can be a challenging environment. The hospice team must understand and manage the needs of both patient and family, and provide the resources to support them.
Hiring the best to provide the best care
Lisa Reil, RN, general manager of VITAS Healthcare in Chicago, Illinois, speaks for all VITAS hiring managers when she says "I believe hospice nursing is misunderstood. It is not just about providing comfort measures. VITAS nurses manage complicated symptoms at the end of life. We have a reputation for providing superior and empathic care through outstanding communication and leadership skills and maintaining a keen focus on our patients' comfort and quality of life. We hire some of the best nurses around. And we are looking for more."
When hiring nurses to join her team, Lisa looks for those who have:
Strong critical thinking skills
High-acuity clinical competency
Great communication skills
The ability to manage the physical, mental, emotional and spiritual needs of patients and families as they journey through unpredictable end-of-life challenges and issues.
Sometimes these nurses are intensive care nurses who no longer want to work at the pace demanded by a hospital ICU.
A change in perspective
Lisa has been with VITAS for less than a year, so she still sees the role of the hospice RN with new eyes. "When I first started, it was difficult to hear the staff talking about a patient who was imminent," she says. Today she hears those words and thinks, "Everyone is in place, all is well, the team has it handled."
As the team leader, the RN oversees visits by the rest of the team—the chaplain, the social worker, the hospice aide—and establishes a connection with the patient and family.
"The clinical aspect is challenging, but it's very holistic, too," Lisa says. "It's unique, and it's exciting. You can't find this kind of nursing anywhere else. It's not the ICU, but nurses with that background do well here at VITAS."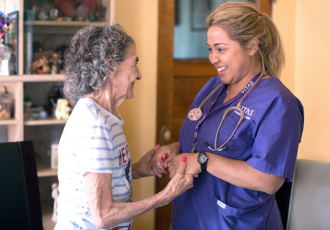 Choose a Career with VITAS
We offer a variety of full-time, part-time and per-diem employment opportunities. Employees earn competitive salaries and have the flexibility to choose a benefits package suitable to their own needs and lifestyle.
See Current Opportunities