Nurses, Diversity
Wanted: More Male Hospice Nurses

Men are increasingly interested in nursing as a career, and VITAS is actively seeking male nurses to work in the hospice profession.
Likely nursing candidates might be veterans who have gained experience as medics or military nurses. They could be sons of nurses or doctors, inspired to follow in a parent's healthcare footsteps. They could be men who were so impressed by care provided by a male nurse in a hospital or doctor's office that they are now considering the profession themselves. Or they could be millennials, less influenced by traditional gender roles or the perception that nursing is a women's profession, who want to pursue nursing as a satisfying career, a way to give back.
What does a hospice nurse do?
Most hospice nurses enjoy the mix of bedside care and administrative duties, autonomy and teamwork characteristic of a hospice team. Because hospice care is provided in a variety of settings—patients' homes, assisted living communities, nursing homes or other healthcare facilities—hospice nurses often have more meaningful, direct-to-patient interactions throughout a typical day.
Nurses at all levels of training and licensure can find opportunities in the hospice industry. A team RN, for example, fills a director's role, communicating, managing pain and providing hands-on care. It is the RN's responsibility to oversee the work of the aides on the team, and RNs do copious amounts of documentation, both on paper and via computer.
In addition to the RN, VITAS hires other nursing positions, including LPNs, NPs, HHAs, CHHAs, team managers, admissions RNs and more. Jobs include runner, home care, continuous care, inpatient, per-diem, nursing home, etc. And because VITAS cares for patients in 14 states and the District of Columbia, there are opportunities for VITAS nurses nationwide.
VITAS Partners with the American Association of Men in Nursing
To boost recruiting efforts, VITAS has formed a partnership with the American Association of Men in Nursing (AAMN). The two organizations share several goals:
To increase the number of male nurses in the US
To attract male nurses to the hospice profession
To challenge the perception that nursing is women's work
The State of Male Nursing
At VITAS and across the nation, numbers illustrate both the state of male nursing and the need for more:
Of 3 million US nurses, about 10 percent are men, many of whom gravitate toward technical care in surgery, the ICU or ED
Among more than 4,500 VITAS nursing positions, men represent 15 percent of LPNs, 12 percent of admissions nurses and 11 percent of RNs
In the US military, about 30 percent of nurses are men
Men are Caregivers
VITAS and AAMN, together with AARP, are conducting research comparing the care provided by men and women, both professionals and family caregivers. Of the 40 million family caregivers in the US, 40 percent are male, according to AARP.
Hospice nurses benefit from:
Independence in setting their own schedules and seeing patients when they need to be seen, while having flexibility in their workday for emergencies and unexpected changes in routine
The professional satisfaction of working as an integral part of an interdisciplinary, non-hierarchical team—a physician, nurse, chaplain, social worker, hospice aide, volunteer, bereavement services manager and team manager, all of whom bring unique strengths and an equal voice
A spiritual satisfaction that comes from caring for patients and their families at the end of life
"We don't know a lot about these caregivers," notes Diane Deese, VITAS vice president of community affairs. "In conversations, they report that they don't feel competent in the role of caregiver. Yet they are strong, empowered and caring—that's the description of a nurse!"
Re-shaping the Nursing Profession
Historically, men and women in certain religious orders served as nurses, but without medical training. During the Victorian era, patients and nurses were separated by gender; male patients had only male nurses. Throughout the last half of the 19th century, Florence Nightingale almost single-handedly turned nursing into a profession.
Today, however, the same dynamic that is bringing women to predominantly male careers in, for example, IT, science and engineering, is also attracting men to nursing. The biggest draws? Salary and opportunity. As one male nurse put it, "If I ever lose my job on a Monday, I can have another one lined up by Tuesday."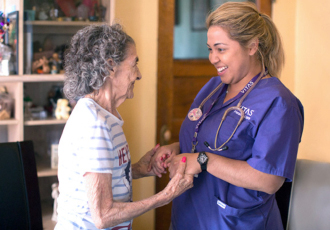 Choose a Career with VITAS
We offer a variety of full-time, part-time and per-diem employment opportunities. Employees earn competitive salaries and have the flexibility to choose a benefits package suitable to their own needs and lifestyle.
See Current Opportunities