Diversity
Why a Diverse Workforce is Important at VITAS

VITAS® Healthcare's commitment to workforce diversity is not just the right thing to do; it is a critical part of our business success. A diverse workforce helps us achieve two of our organization's goals:
Providing high-quality, patient-centered care
Creating a workplace that values inclusion and respect
Our Commitment to Diversity
VITAS Healthcare is the thought leader and change architect that builds talent and fosters innovation and diversity in its work force to maximize growth and outreach in providing quality end-of-life care services to patients and families throughout the world.
—VITAS Talent Acquisition Mission Statement
Our commitment to diversity is reflected in our mission statement. We are proud of our employees' rich cultural diversity, the result of our commitment to being an Equal Opportunity and Affirmative Action employer. In fact, more than 60 percent of our more than 11,600 employees represent minority groups.
Diversity through Recruitment and Partnerships
VITAS is one of a few national hospice providers with a significant presence in many diverse communities. To help us find and attract a workforce that mirrors our patient population, we attend conferences and recruit candidates through organizations including:
National Black Nurses Association (NBNA)
National Association of Hispanic Nurses
Haitian-American Nurses Association of Florida
Asian American Pacific Islander Nurses Association
American Association for Men in Nursing
Black Nurses Rock
Indian Physicians of South Florida
National Medical Association (representing African American physicians)
National Association of Licensed Practical Nurses
Chi Eta Phi Nursing Society, Inc.
We attend local and national career events attracting African Americans, Hispanics, Asians, the disabled, military veterans, females, multi-generational professionals and LGBTQ candidates. We recruit via targeted online sites—including colleges, universities and diversity sites such as MinorityNurses.com. Our focus on diversity helps broaden our talent pool to find the best healthcare professionals to care for our patients.
We use creative approaches in advertising and promoting our career opportunities to attract bilingual employees who speak Spanish, Vietnamese, Cantonese and Mandarin, among other languages. Our marketing materials are translated into Spanish frequently and, as needed, into Haitian Creole, Vietnamese, Korean, Chinese and other languages. Our website is translated into Spanish and Chinese.
Diversity through Employee Education
We know that respect for diverse ideas and perspectives:
Strengthens our company's culture
Improves organizational thinking and decision-making
Gives us a strong competitive advantage in today's healthcare workforce market
VITAS has developed dozens of publications titled Things Hospice Innovators Need to Know (THINKs) that provide insights on an array of cultural backgrounds and beliefs. From the Navaho to the Hmong, from the recovery movement to atheism/agnosticism, these simple backgrounders, most of them just three pages long, help our employees learn how to provide culturally sensitive end-of-life care to a variety of patients and their families.
The company's internal quarterly newsletter, Vital Signs, reports employee achievements, milestones and diversity initiatives in each of our programs nationwide. Company videos reflect the diversity of our workforce.
We encourage our employees to take advantage of our training and education opportunities for professional development and career growth. These opportunities translate to greater employee retention and homegrown leadership; many of our managers and executives are long-term VITAS employees who have worked their way up. As a result, diversity is reflected at every level.
Providing Culturally Sensitive Care
VITAS's interdisciplinary teams treat and support a wide range of patients and families near the end of life. Our employees' experiences and backgrounds, both personal and professional, enable them to connect with patients and their loved ones in a unique and meaningful way.
A Legacy of Recognition
VITAS has long been recognized for its diversity efforts:
Legacy Magazine, a business publication serving South Florida's black professional community, recognized VITAS as "Corporation of the Year" in their May, 2017, issue for its commitment to a diverse workforce.
In 2017, the NBNA and VITAS presented a joint resolution, "End-of-Life Care: Transitioning Patients with Dignity and Family Support," that was approved by NBNA's 2,500 members.
Chi Eta Phi Nursing Society presented a Special Recognition Award for VITAS Healthcare's support to nurses.
The NBNA and the State of Louisiana recognized VITAS for its dedication in supporting Louisiana clinicians with educational efforts to improve the delivery of high-quality end-of-life care to citizens of Louisiana following Hurricane Katrina.
VITAS was presented the Dorland Health Silver Crown Award in 2011 for Veterans and Diversity Initiatives.
VITAS won the 2004 Rainbow/PUSH Health Trailblazer Award for our efforts to expand awareness of and access to hospice services for African Americans.
VITAS received the first-ever Dr. Marian Gray Secundy Sanofa Award presented in 2004 by the Initiative to Improve Palliative Care for African Americans.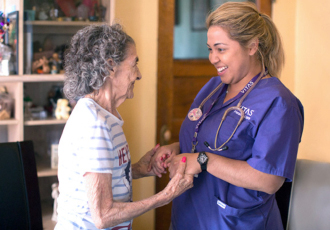 Choose a Career with VITAS
We offer a variety of full-time, part-time and per-diem employment opportunities. Employees earn competitive salaries and have the flexibility to choose a benefits package suitable to their own needs and lifestyle.
See Current Opportunities