Physicians
A Day in the Life of Hospice Medical Director June Mayugba, MD

It may be more behind the scenes than direct patient care, but it's no less profound
It's 9 a.m. Jemelle "June" Mayugba, MD, is at her desk in a VITAS Boynton Beach, Florida office park. She is the medical director for VITAS Healthcare in Palm Beach, Florida, which means she oversees the care of an average daily census of 600 terminally ill patients and their family members living in their homes or residential facilities in sprawling Palm Beach County, Florida.
Don't be fooled by the address; Dr. Mayugba's 10-by-10 office is utilitarian at best. She sits at an L-shaped desk, swiveling between the printer/scanner, the phone and the computer screen. She's managed to get a cup of tea before her first interruption of the day: a team manager coming to her desk.
The day's first emergency
A hospice patient at home is very low hematocrit and hemoglobin; he'll need a blood transfusion. Transfusions are ordered on a case-by-case basis, weighing the potential positive impact on quality of life for the patient. Dr. Mayugba asks several relevant questions before deciding the patient is appropriate. Then she calls the hospital and faxes a case sheet and doctor's order.
Her cell phone, programmed to sing "Itsy Bitsy Spider" in a child's voice, pipes up. Dr. Mayugba pokes at the phone screen while holding a landline receiver to her ear. She jots something in her calendar book. The fax machine purrs on and spits out paperwork, which she signs—multi-tasking at its finest.
"Thank God for technology," exclaims the team manager, who is back at the doctor's desk. "We don't have to wait 'til midday to get everything." She takes the sheaf of papers from the doctor and heads back to her office to call the patient's family.
Sticky notes and medical records
Dr. Mayugba has moved on. She's reading emails. "Oooh," she murmurs. Makes a phone call, gets a voice message, makes a note on a yellow sticky note. "I love my Post-its," she grins. "They help me remember." And she adds it to the dozens that wreathe her computer screen.
As medical director, June Mayugba (my-OO-ba) consults with attending physicians, supervises a dozen VITAS physicians, guides staff and volunteers, and serves as a resource to practicing physicians and other healthcare professionals in Palm Beach on the benefits of hospice and palliative care for patients and their families.
It is, she says, an administrative position. It's the phone, which is on 24 hours a day unless she's on PTO. It's reviewing medical records. It's making decisions about case-by-case therapies for patients who are pending admission. It's educating. It's certifying and recertifying patients as hospice appropriate. It's even discharging patients who are so well attended on hospice that they improve and are no longer hospice-appropriate.
A bedside physician at heart
She describes herself as a bedside clinician, and she admits she misses that. She still sees difficult cases—she'll see two later today—and works as a hospitalist some weekends.
But since taking on her current role in 2016, Dr. Mayugba finds satisfaction in knowing that the entire Palm Beach program depends on her medical expertise, her cool decision-making ability and her oversight. Although not providing direct patient care, her role is vitally important and needed by the program to ensure it can continue to serve increasing numbers of hospice patients and their families in Palm Beach County.
After earning a bachelor's degree from the University of the Philippines, June Mayugba earned her medical degree from the University of East Ramon Magsaysay Memorial Medical Center in Quezon City, Philippines. She completed a residency at New York Methodist Hospital.
She came to Florida for a year, working in nursing homes and planning to return to New York. But life got in the way, and she never left. She tried outpatient work and decided she was a hospital physician. She has served as a primary care physician in Palm Beach County and a nursing home physician at Florida Acute Care Specialist, where she was involved in admitting to and treating residents in skilled nursing facilities.
Hospice experience in an inpatient unit
Her first hospice experience was as associate medical director for Hospice by the Sea in Palm Beach. "I was in an inpatient unit every day with 14 hospice patients," she says. "That's where you learn!" In 2010, she joined VITAS as an associate medical director.
Among her many tasks today, she is also determined to organize a dinner for the VITAS physicians she manages, mentioning her plans to others to get some logistical help.
"My doctors are great!" she says. "Once they come into this program, they never leave. They're out in the field, with the RNs. In the hospital, you'd call a consult. In the field, they call me; we co-manage, try to think outside the box."
It's 10:52 a.m. The emails have stacked up, so she's back at her computer screen with Post-its. The phone sings. This time it's a request for a palliative consult.
"This patient is trach, but no to feedings?" Dr. Mayugba quizzes the caller. "What's the plan from the brother? As far as the agitation, they have to make adjustments to the meds. Maybe he needs something around the clock."
The patient will turn out to be a longtime psych patient who will present challenges in managing his care. Dr. Mayugba continues to collect information over the phone. "Is he eating. Is he taking his meds? No meds? Not eating either? Drinking tap water.
"Can anyone get near him? Let's see if he'll take his meds for the brother. But with a trach, he's going to aspirate. And he'll get weaker. Is he combative with staff? We're going to have to think outside the box in order to manage his care, and we need to make sure the brother is on the same page. Keep me in the loop. Bye."
Attending a QAPI meeting
After lunch at her desk, there's a QAPI—Quality Assurance Performance Improvement— meeting. A dozen VITAS staff, from the medical director to nurses, chaplains, social workers and physicians, sit around a huge meeting table viewing a PowerPoint presentation. They look at figures, question the numbers, brainstorm and evaluate.
"What about family members who are far away?"
"What's the reason for the drop since Q4?"
"This is not a one-man show. It should be side-by-side with your CNA. Have we lost that focus?"
"How do we address the number of patient falls?"
"How can we get caregivers to come to caregiver support groups?"
"We can't have these meetings and not make changes," one person challenges as the meeting winds down. "We're all leaders; take this back to your team!"
Ninety minutes later, Dr. Mayugba is sprinting through a downpour to her car for the 20-mile drive to a hospital for a palliative consult.
On-again off-again hospice
First stop once she gets there is the critical care unit, where a woman has been an on-again, off-again hospice patient. She is in this darkened unit now, the colored lights of the monitors around her the only light in the room.
The patient repeats the sound "ahhhh," but she isn't conscious. She is in renal failure, with a urinary tract infection. She is in pain; isn't eating or drinking. Her daughter, who has revoked hospice, now wants to put her mother back on. The patient was not a VITAS patient, but VITAS is providing the palliative consult.
Dr. Mayugba speaks to the nurse and looks in on the patient. She decides it's time for a conversation to find out what the family wants and explain what hospice can and cannot do. She calls the daughter and they talk briefly; the daughter is driving and has her kids in the car. They agree to try again at 4:30 p.m. Dr. Mayugba fills out a consultation report and heads for the next palliative consult.
He is failing; there is no family
Again, she talks to an RN on the unit about the patient. He is failing, but there is no prognosis. There is no family. He won't walk and can't toilet himself. Dr. Mayugba disappears into the patient's room. When she comes out a while later, a VITAS admissions nurse is also on the unit. Dr. Mayugba asks the VITAS nurse to sit and wait. The decisions to be made will be in the best interests of the patient, and may or may not involve a hospice admission. The doctor turns to go back to the patient's room.
She checks her watch. It's 4:30. The daughter of the patient in the critical care unit is expecting Dr. Mayugba's call. "But this is complicated," she says, her attention on the patient at hand. "Maybe in ten minutes I can call her."
She focuses on the situation before her, as often as that situation changes. She solves problems. Sometime this evening, she will go home to a husband and four children. But she'll be back at the office tomorrow, listening, directing, focusing, one issue at a time. Being a VITAS medical director. Putting patients and families first.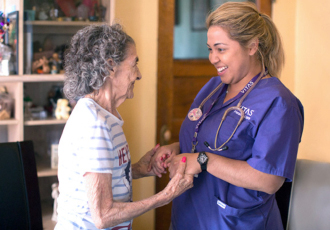 Choose a Career with VITAS
We offer a variety of full-time, part-time and per-diem employment opportunities. Employees earn competitive salaries and have the flexibility to choose a benefits package suitable to their own needs and lifestyle.
See Current Opportunities