Working at VITAS
VITAS 'Acts Up' for UNICEF Kid Power Program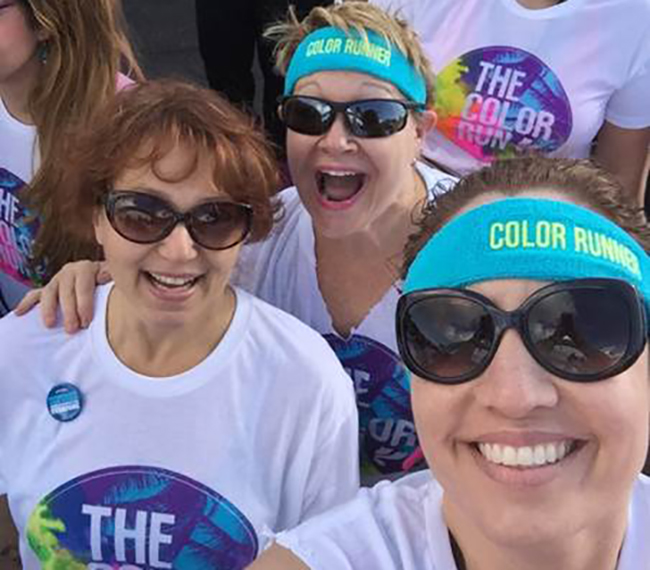 Color us happy! From left, VITAS of San Fernando-Ventura's Patient Care Administrator Carole Nathanson, Volunteer Coordinator Lori Netzen and Admissions Liaison Danielle Bryan at The Color Run 5K Race.
Competing for a Cause
Sometimes, the universe works in mysterious ways.
VITAS of San Fernando-Ventura's Admissions Liaison Danielle Bryan and Volunteer Coordinator Lori Netzen are the program's very-active wellness champions. The dynamic duo is always looking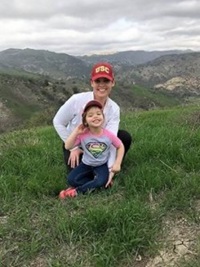 for wellness challenges that would engage their colleagues.
So, when Lori noticed that several sisters of St. Joseph—who were trained by VITAS of San Fernando-Ventura Volunteer Manager David Lackey to become hospice volunteers and cared for patients at the Carondelet Center in Los Angeles—were sporting blue wristbands at a volunteer appreciation luncheon, she was intrigued.
When she asked them about it, the sisters told her that the wristbands tracked and measured their footsteps, which in turn were used to raise funds for UNICEF Kid Power (UKP). The program provides food for severely malnourished children throughout the world.
Lori and Danielle decided to bring UKP to Program 97. In Summer 2016, the program was adopted by the Encino, Camarillo and Lancaster offices and 300 employees signed up. "The response was overwhelming," says Lori. "We divided the people into 12 teams and it became a healthy competition to see who could log the most steps!"
Over the summer, the teams took more than a million steps and the count continues to grow. Employees participated in walks, runs, went hiking, and climbed mountains. "You name it and someone in the program did it!" laughs Lori.
"The program is ongoing," says Danielle. "We are doing this together, as colleagues and friends. This is such a great cause. We are giving back to our communities by joining with UNICEF and helping them in their effort to deliver lifesaving packets of nutritious food to starving children around the globe."
Giving Back to the Community
"It's the perfect synergy. Working at a great cause while we get healthy! Participants tell me all the time that being active for a cause is making them feel better about themselves," says Lori.
Lori, who has done several runs and walks for charities, finds exercise to be therapeutic. "It helps me stay healthy and when I walk or run with my music on, it centers me," she says.
Danielle, who recently started doing 5k runs, with encouragement from Lori, has her own weight loss success story. She has lost a significant amount of weight over a year and a half by making "spiritual, personal and physical changes."
But keeping the weight off is not easy. "It's a daily commitment," says Danielle. "I know how hard it is and so we do little things to encourage the employees and thank them for making health a priority."
So, Lori and Danielle give out simple rewards like water bottles, apple slicers or tickets for a show when employees reach specific personal goals or win the weekly step count.
They also organized yoga classes to be held every Wednesday, where a volunteer instructor leads a simple and easy session.
Lori has created a "quiet room," a relaxing space with a yoga mat, meditation music, an aromatic diffuser and books of affirmation. Employees use the room to gather themselves when they are having a bad day. No cellphones allowed!
The wellness champions have received a lot of appreciation for their efforts. "It's such a pleasure to do this. People are giving us great feedback and support. It's actually raising the morale of the office," says Danielle.
"We are going to continue to find creative ways to keep our colleagues healthy. The next year is going to be exciting," smiles Lori.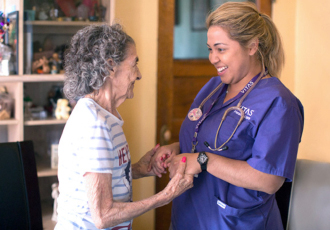 Choose a Career with VITAS
We offer a variety of full-time, part-time and per-diem employment opportunities. Employees earn competitive salaries and have the flexibility to choose a benefits package suitable to their own needs and lifestyle.
See Current Opportunities