End of Life Wishes
Orlando Team Helps Pediatric Patient's Wish Come True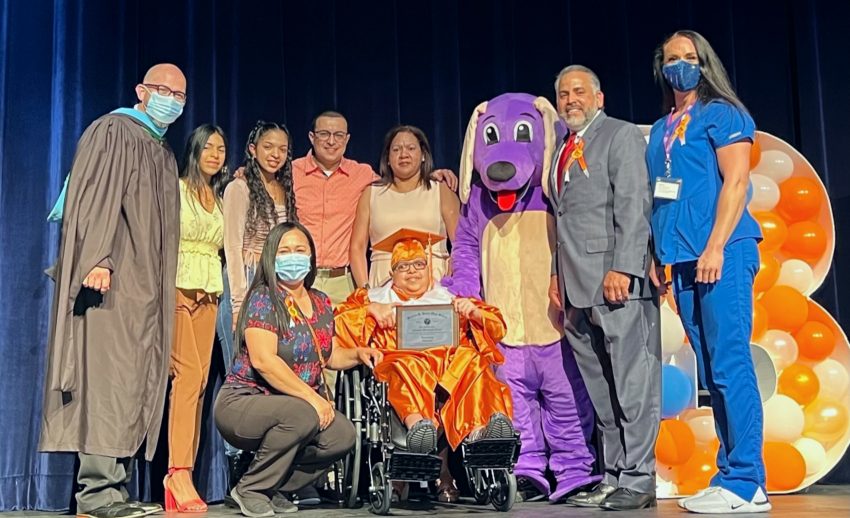 When 18-year-old Abraham Maldonado confided in Chaplain Antonio Rivera-Maldonado (no relation) that he wanted to attend his high school graduation ceremony, Antonio immediately shared that wish with the rest of Abraham's hospice team.
Abraham, a VITAS patient in Orlando, Florida, has lived with malignant neoplasm (a cancerous tumor) of the spinal cord for a decade and may only have another six months to live. Despite battling his illness, he has continued attending high school through a virtual learning program at home.
Only a few credits shy of completion, Abraham wanted to attend his graduation and celebrate his accomplishment.
The moment Team Manager Nicolette Burton heard about her patient's final wish, she agreed: They had to make it happen.
"Abraham doesn't like to complain—even when he's in pain," Nicolette says. "Despite everything he's been going through, he has such an outgoing, positive, can-do attitude. I wanted to do anything I could to help make his dream come true."
A Dream Realized
Thanks to Antonio's work, Abraham was granted his wish. A private ceremony was held in the Boone High School auditorium in Orlando. With his family, high school friends, VITAS interdisciplinary team, and Boone High School staff in attendance, Abraham received his honorary high school diploma.
It feels good to know that I could make a difference in his life.

-Werner Ferman, VITAS LPN
Originally from Puerto Rico, Abraham's family has made many sacrifices to ensure he receives the best care possible.
"[He] is a gift. With support and love, his family rallies around him," Social Worker Lisa Camacho says. "They've never once made him feel like he's a burden. They love him. His condition is only a part of who he is. They're running alongside him with comfort and support as he continues his unique journey on Earth."
Finding the Strength to Persevere
Abraham worked hard to achieve his goal, and it was far from easy. The daily hurdles and obstacles were challenging.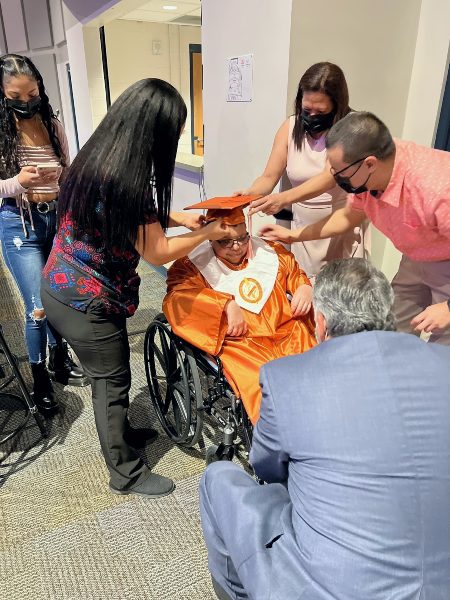 At one point, as much as he loved learning, it was becoming difficult to find the strength to continue.
"Abraham was frustrated and did not want to go back to school. He almost gave up." says Antonio. "So, his father made a deal with him. If he went back to school and finished, his [dad] would go back to school, and they would graduate together."
Today, Abraham is a high school graduate. And on July 10, he attended his dad's graduation ceremony for a bachelor of science degree in mechanical engineering.
"It was great to be there for Abraham on his special day," says Werner Ferman, a licensed practical nurse on Abraham's team. "He's a warrior and a champion! I dressed up as the VITAS mascot and cheered him on as he received his diploma. It feels good to know that I could make a difference in his life, providing care that enabled him to achieve his goal and dream."
Despite numerous struggles, 18 surgeries, and years of chemotherapy and radiation treatments, "Abraham's personal life quote is, 'Never give up!'" says Nicolette.