End of Life Wishes
VITAS Helps Hospice Patient Fulfill His Wish of Getting Married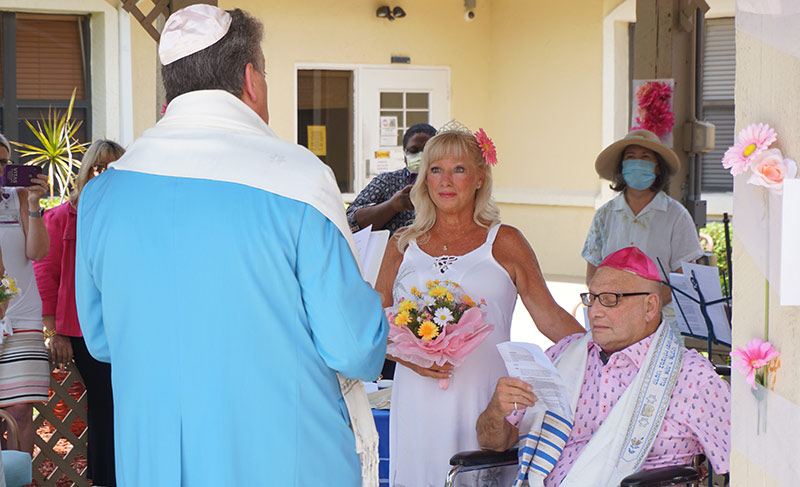 For 35 years, Donn Allen and Charla Lancaster have been friends and steadfast companions through life in a non-romantic-but-always-close relationship on Southeast Florida's Marco Island.
In early 2020, Donn was diagnosed with brain cancer, and in May he was admitted to the VITAS Inpatient Hospice Care Unit (IPU) at Solaris HealthCare Imperial in Naples. One day in June, as Charla was visiting her dear friend, the two discussed Donn's last wishes.
"He'd never been married before and never had any children," says Laura Bellmore, the IPU team manager and a VITAS hospice nurse for 10 years. "Donn's wish was to be married before he died, and we caught wind of it when they began talking one day about how to make a wedding happen."
A Theme, Teamwork, and a Wedding
Knowing the couple had already decided on pink pineapple-themed shirts for the groom and his wedding party, the VITAS team sprang into action.
"It's always been my motto that there are no do-overs in hospice care. We have to get it right the first time."

-IPU Team Manager Laura Bellmore
Rabbi Donna Mesite Levy, a VITAS home care chaplain, coordinated the Jewish wedding ceremony and provided prayer shawls. Deanna Fitzgerald, director of market development, arranged for a pink-accented Gerber daisy wedding bouquet and a giant pink daisy to adorn Charla's hair.
Other team members provided a wedding cake, while Music Therapist Hannah Falestiny stepped up as the musical accompanist.
The IPU's gazebo was transformed into a chuppah, the traditional wedding canopy of Jewish matrimony.
On Friday, June 12, Donn's IPU care team carefully dressed him, positioned him in his wheelchair, and escorted him to the chuppah to meet his waiting friend and bride. Pink rose petals lined the walkway.
'Perfect Example of Why We Do What We Do'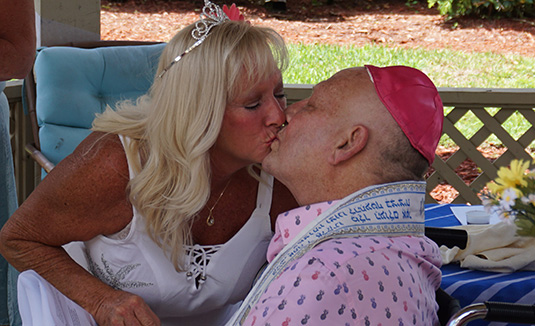 "Charla was really taken aback by the fact that we paid such special attention to their request and provided all the little touches," said Fitzgerald, who attended the wedding with VITAS General Manager Robert Johnson, IPU nurses, and staff.
Pastor Thomas Boeck of Marco Lutheran Church presided over the ceremony, and the two lifelong friends sealed their vows with a kiss and applause under sunny Florida skies.
Thirteen days later, Donn was discharged from the IPU to hospice care at home with his bride.
"I'm not a wedding planner," says Bellmore, "but it's always been my motto that there are no do-overs in hospice care. We have to get it right the first time. This was a perfect example of why we do what we do: honoring someone's last wish to be married."