Veterans
Senator Tom Carper Visits Local WWII Veteran and Hospice Patient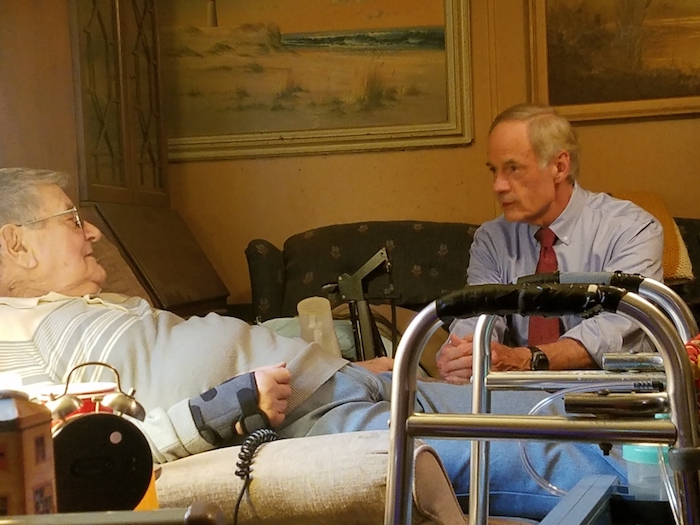 October 22, 2018—Malcom "Mac" Impink, a local World War II veteran and hospice patient being cared for at his home in Frankford by VITAS Healthcare, received a Sept. 28 visit from Sen. Tom Carper, who took the opportunity to thank Impink for his service and learn more about the hospice care model and the unique challenges that face seniors and veterans at the end of life.
The event was coordinated by Impink's family, Carper's Sussex County office and the VITAS hospice team caring for Impink.
"Senator Carper spent time speaking to Mac, but also introducing himself and integrating himself with the family members who were there," says Melissa McNally, general manager of VITAS in Delaware. "He always found something he could relate to with each family member."
During the visit, both men discussed the care that Impink was receiving and their respective military experiences. Impink served in the Army at the end of World War II, most notably stationed at the Buchenwald concentration camp. Carper served in the Navy during the Vietnam War.
Impink "thoroughly enjoyed" meeting the senator, according to McNally. "Mac said it was just great to meet someone who really cared about hospice and the care that he is being given," McNally says.
After spending time with Impink and his family, Carper met with staff at the VITAS Millsboro office. He spoke to each staff member, asked about their duties and offered his thanks for their service to a vulnerable population.
One member of the team gave the senator a challenge coin, a small medallion indicating membership to a particular military unit. In a letter to the hospice team after the event, Carper wrote that he "was very touched" by the gesture and that "the VITAS veterans program is much needed."
"It was really an honor to have him at our office," McNally says. "He is such a proponent of seniors and the care that they receive."
VITAS began serving patients in Delaware in 2005 with its first office in Newark. Today, VITAS cares for approximately 200 patients daily in Delaware.