Volunteers, Veterans
VITAS Volunteer Judith Mathewson Recognized for Outstanding Work With Veterans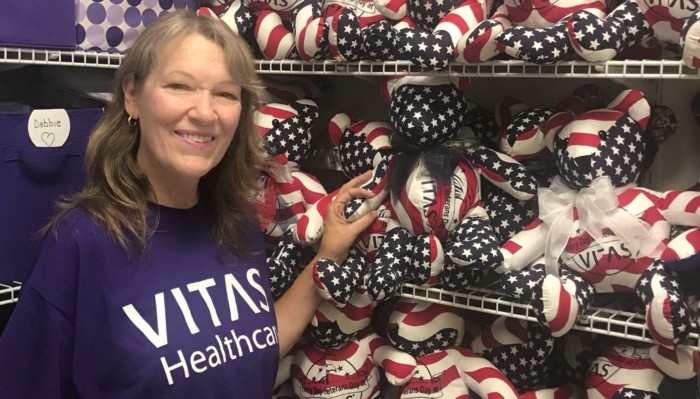 Judith Mathewson, a VITAS volunteer in Brevard County, Florida, received the 2018 Outstanding Humanitarians and Volunteers award from Space Coast Daily for dedicating her time and talent to helping people in need.
The Brevard County community news organization recognized Mathewson for her outstanding volunteer work as part of its annual Central Florida Humanitarian Awards. As of November 2018, Mathewson had volunteered for VITAS' Veterans Recognition Program for 15 months, putting in over 400 hours with patients and their families.
"Volunteering is my way of honoring my own parents and family members who have served our country," Mathewson says. "The veterans in Brevard County who served for many years deserve our nation's gratitude, and volunteering for VITAS' Veterans Recognition Program is the best way for me to honor their service and sacrifice."
Become a VITAS volunteer.
Prior to her service with VITAS, Mathewson earned a doctorate in counseling and education and spent 30 years in the United States Air Force. Today, she is a therapist focusing on mental health related to marriage and family issues, as well as a board member of the Military and Government Counseling Association.
Mathewson says that she enjoys working with veterans and their families, as well as collaborating with the Disabled American Veterans and the VA to ensure veterans' needs are met.
"Really, this is just what I do to honor veterans," Mathewson says. "I am humbled by this honor!"
The award was issued in a ceremony on November 8 at the Hilton Melbourne Rialto Place in Melbourne.