Veterans
Tuskegee Airman Veteran Supports VITAS Patients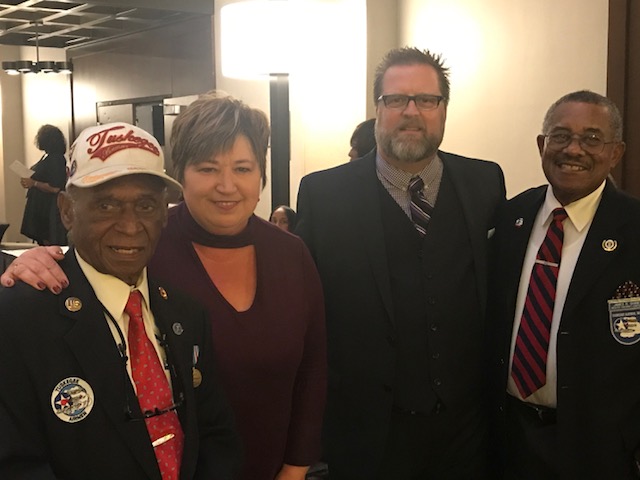 In Cincinnati, VITAS Veterans Liaison Carole Quackenbush with husband Kurt (center), Tuskegee Airman Les Edwards (left) and Chapter President James Shaw (right).
This year marks the 76th anniversary of the Tuskegee Airmen program, which trained nearly 1,000 African American combat pilots and some 15,000 ground and support personnel during WWII. These pioneering airmen served our nation against a backdrop of segregation and racism. Although finally recognized and celebrated today, the airmen are growing fewer; an estimated 200 are still living.
Today some 50 Tuskegee Airmen chapters carry on the airmen's legacy. These groups honor the history of the air, ground and operations crews that worked and fought during World War II. Chapters also run youth programs and award scholarships to local students.
In October of 2017, the Greater Cincinnati Chapter of the Tuskegee Airmen held their Annual Red Tails Dinner Dance Fundraiser. VITAS® Healthcare is an annual sponsor and supporter of the event.
VITAS Veteran Liaison and Cincinnati Chapter Secretary Carole Quackenbush attended, along with chapter president James Shaw and 94-year-old Army Air Corps Staff Sgt. (retired) Leslie Edwards—one of the original Tuskegee Airmen.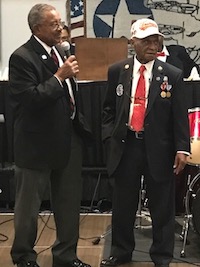 Dedication to Veterans
Still spry (he line dances every week) and a dedicated oral historian (he recently returned from Joint Base Elmendorf-Richardson in Alaska, where he talked about the Tuskegee Airmen to active-duty airmen at a commemoration event), Les supports veterans receiving hospice services when Carole calls, talking to vets and participating in bedside salutes.
Chapter President and Chief Master Sergeant, U.S. Air Force (retired), James Shaw is another of Carole's go-tos when veterans on hospice services need the support of a fellow veteran. He enlisted in 1955, 10 years after Les was discharged and only seven years after the military was finally fully integrated.
Carole is blown away by both men's dedication to veterans. She's grateful for the time they give the veterans VITAS cares for near the end of life. "Helping one another is the key. They don't have to be so kind, considering what they've been through, but they are."
In the United States, veteran deaths account for 25 percent of deaths every year, and with more than 1,000 veterans dying every day, it is critical for hospice providers to offer specialized care to veterans and show appreciation for the sacrifices they made for our country.
VITAS' specially trained staff and volunteers work daily to honor veterans' preferences at the end of life and ensure they receive the respect, comfort, compassion and tributes they deserve.
For more information about VITAS' veteran services, call 800.93.VITAS.