Testimonials
VITAS Patient's Brother 'Saddles Up' for VCC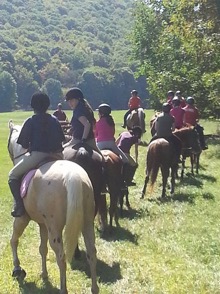 As part of a VITAS Community Connection fundraising event called "Saddle Up: Horses for Hospice," members of the Cheshire Horse Council in Cheshire, Connecticut, participated in a 3.5-mile trail ride through the countryside.
Waterbury, Connecticut—Bob LaRosa was so impressed with the care that his younger brother, Victor, received at the VITAS Inpatient Unit at St. Mary's Hospital in Waterbury, Connecticut, he decided to donate money to VITAS Community Connection (VCC) in his brother's memory.
But he didn't just write a check.
A Successful First Fundraiser
An avid equestrian and president of the Cheshire Horse Council in Cheshire, Connecticut, Bob organized a VCC fundraiser called "Saddle Up: Horses for Hospice." For the event, 17 of the council's members rode their horses, including mustangs, thoroughbreds and quarter horses, to Wentworth's Homemade Ice Cream in nearby Hamden, Connecticut. There they parked their horses in a shady spot and, for a small donation, invited the public to take pictures. (Petting was free.) Participants also enjoyed some ice cream.
"It was our first fundraising event, and it was so successful, we plan to do it again next year," says Bob. "In fact, our Council recently decided to go national with this event by contacting horse clubs around the country and encouraging them to help raise money and awareness for hospice by participating in a trail walk every year on the last Saturday of September!"
With Each Step, VITAS is There
Bob said he wanted to give back to VITAS because the staff that took care of his brother for five days at the VITAS IPU was "amazing."
"The people who work at VITAS aren't just there for a paycheck—they are there to help people," says Bob. "In their phenomenal way, they prepare you for what to expect when a loved one is dying by walking you through the process. And that's invaluable. Thank you, VITAS."
VITAS has posted a plaque on the VCC Memorial Wall at the St. Mary's Inpatient Unit honoring Bob's brother and the fundraiser that Bob organized.