Veterans
First All-Female Honor Flight: VITAS Helps Make History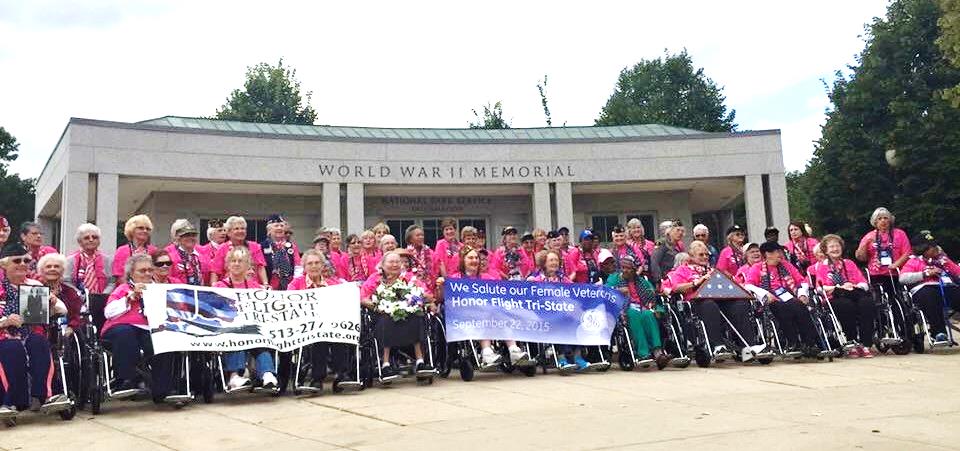 Honoring the braves! The 72 female veterans who took part in the first ever All-Female Honor Flight outside the World War II Memorial in Washington, D.C. VITAS of Cincinnati Veterans Liaison Carole Quackenbush was on the historic flight as a veteran's guardian.
Cincinnati, OH-On September 22, 2015, VITAS Veterans Liaison Carole Quackenbush helped make history.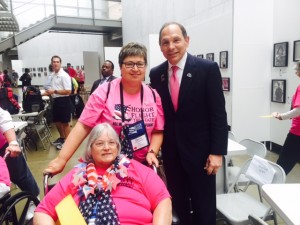 Carole accompanied Donna Cunagin, a 10-year U.S. Navy and Vietnam veteran, on a momentous All-Female Honor Flight from Cincinnati to Washington, D.C. The first of its kind, the flight took about 70 female veterans of different branches of the U.S. military and their guardians to the nation's capital. VITAS was involved with the event.
This was Carole's 17th flight with the Honor Flight Tri-State program, with VITAS involved in more than half of those trips. When VITAS supports Carole's flights as a veteran's guardian, the veteran she accompanies flies for free.
This remarkable relationship between VITAS and the Honor Flight Tri-State organization started about six years ago, when Carole took her first trip to Washington, D.C., as a veteran's guardian on an Honor Flight. Carole was so impressed with the organization that she introduced it to VITAS of Cincinnati.
"For the last eight years, Honor Flight Tri-State has had the same mission—to fly as many military veterans to Washington, D.C., as possible and to take them on tours of the war memorial sites there—all free of charge," says Carole, an ambassador for the Honor Flight Tri-State organization. The tour includes the U.S. Marine Corps War Memorial, the Tomb of the Unknown Soldier, the Air Force Memorial, the WWII Memorial and the Vietnam War Memorial, among others.
"Carole is an outstanding champion of veterans," says VITAS Vice President of Hospice Operations Steven Wishart. "She is deeply invested in making sure that veterans receive the care and compassion they deserve at the end of life. She uses every opportunity she finds to talk about the different ways, including the Honor Flight Tri-State program, through which VITAS continues to assist and honor our veterans."
Also a Tuskegee Airmen chapter member and secretary, Carole is proud of VITAS' role in the veteran community. "We are committed to meeting the needs of our veteran patients at the end-of-life. VITAS' support of Honor Flight Tri-State further solidifies the fact that we care deeply for our veteran community," says Carole.