End of Life Wishes
Keeping Love Alive: A Wedding Wish Comes True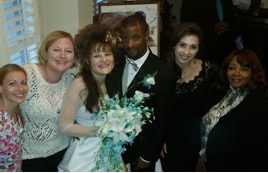 Inland Empire, California—It was a day of celebration, love and laughter, all courtesy of VITAS of Inland Empire, VITAS Community Connection (VCC) and the Make-A-Wish-Foundation.
High School Sweethearts
The ball was set rolling when VITAS Social Worker Tammy Shewell learned that one of her team's patients, Alexandra "Aley" B., 27 years old and suffering from ovarian cancer, wanted to marry Richard W., her high school sweetheart. So Tammy contacted VCC and Make-A-Wish Foundation for assistance in giving Aley a wedding to remember.
VCC paid for a special three-tiered wedding cake frosted with teal icing, Aley's wedding color theme and the color associated with ovarian cancer prevention.
Aley's 2-year-old son, Dustin, with a teal tie and pocket square that coordinated perfectly with the wedding color! VITAS staff also gave Aley a department store gift card, so she could purchase her shoes and other accessories for the beautiful brand-new wedding dress, which Tammy donated. The dress fit Aley to perfection, like it was meant to be!
The Big Day
On the day of the wedding, Tammy and VITAS nurses Nicole Betancourt and Emily Jones set up the backyard of Aley's house for about 75 guests. Each table was "dressed" with a pretty centerpiece that Nicole personally created.
"We were so glad to do this for Aley and her son," says Laurie. "This is what we do at VITAS. With help from VCC and Make-A-Wish, we were glad to make her dream come true. Tammy, Nicole and Emily are amazing women, who are deeply invested in our patients. They go all out to help them. It was a good day."
The Make-A-Wish Foundation also provided financial assistance for wedding supplies and it paid for the newlyweds' honeymoon to Disneyland.