Working at VITAS
7 Ways to Prepare for a Successful VITAS Job Interview
You applied to an open position at VITAS and got a call for an interview. We're excited to talk with you! Here are some preparation tips that can help make our conversation meaningful.
Research healthcare, hospice and topics specific to the role you are interviewing for. A general understanding of what VITAS does and the role you would play as a part of the VITAS team will make for a better conversation.
Dress appropriately. A professional and polished appearance helps make a good first impression and projects responsibility and capability. Think professional or refined business casual. You can never go wrong with a jacket and either pants or a skirt. No jeans. Conservative styles ensure that the interviewer will remember you, not your outfit.
Come prepared to answer a wide range of questions about your background, both educational and professional. You'll be asked why this job would be a good fit for your skills and what you'd bring to VITAS.
What do you want to know? Prepare several questions about VITAS or the role you are applying for to ask your interviewer. Your questions show your interest in the company and ensure that you have a productive interview.
Bring along any required paperwork, such as paper copies of your resume and your professional licenses or any other information you think the interviewer might find valuable. Don't hesitate to ask the recruiter any questions or concerns regarding what to bring.
Review VITAS.com and explore the VITAS social media platforms. We are on Twitter, Facebook, YouTube and LinkedIn. Familiarize yourself with the company and check specific job details pertaining to the role you are applying for.
Be confident and positive. A good attitude during the interview can make all the difference for a hiring manager when they are deciding how to create a well-rounded team. And, as studies show, a smile always helps!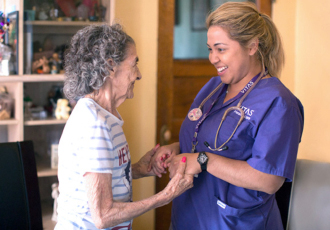 Choose a Career with VITAS
We offer a variety of full-time, part-time and per-diem employment opportunities. Employees earn competitive salaries and have the flexibility to choose a benefits package suitable to their own needs and lifestyle.


See Current Opportunities