Working at VITAS
The Perfect Pairing: VITAS and Meals on Wheels
Lending a Helping Hand
"Hey, Mr. Johnson, how are you doing? I've got your meals for you."
Wanya Moorer greets Atlanta seniors in their homes every week with meals prepared by Meals on Wheels. It's part of her outreach as a community liaison with VITAS Healthcare.
VITAS supports Meals On Wheels Atlanta through event sponsorships and also by encouraging employees like Wanya to lend a helping hand. For Wanya, time spent with Meals on Wheels is as much a part of her job as working with churches, civic organizations and local government to educate the community about hospice.
Serving Seniors
"It's a good partnership in the sense that Meals on Wheels serves the underserved community and it's what VITAS is about as well," says Wanya.
In addition to delivering meals, VITAS employees have served Meals On Wheels' daycare for adults with dementia, its senior center and its home repairs area. VITAS educators offer in-services about end-of-life care to their staff, and VITAS has underwritten thousands of delivered meals as a sponsor of the Meals On Wheels Atlanta charity golf tournament.
Improving Quality of Life
"VITAS has been a fantastic partner for us," says Jeff Smythe, executive director of Meals on Wheels Atlanta. "Our mission is to support senior independence through meals, shelter, education and community. So it's a great fit, because VITAS is very concerned about the same people and about quality of life."
"Being part of a volunteer program, I'm able to go out and interact directly with some of their participants and see what their needs are and also whatever way I may be of help," says Wanya. "Just as VITAS cares for its patients, it cares for its community as well.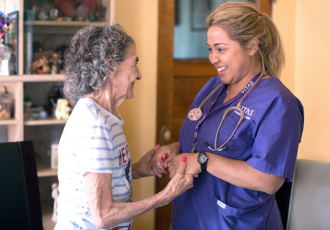 Choose a Career with VITAS
We offer a variety of full-time, part-time and per-diem employment opportunities. Employees earn competitive salaries and have the flexibility to choose a benefits package suitable to their own needs and lifestyle.


See Current Opportunities