Advanced Cardiac Disease
We offered this webinar on Feb. 21, 2019 and Feb. 20, 2020.
The goal of this webinar is to educate physicians and healthcare professionals about hospice eligibility and benefits for patients with advanced cardiac disease (ACD) who have a prognosis of ≤6 months. Through evidence-based data and a review of case studies, attendees understand:
The benefits of advance care planning
Complex modalities for high-acuity cardiac patients
How to manage symptoms, address pain and provide comfort and dignity near the end of life
What Attendees Learned at This Webinar
Heart disease is the number one cause of death in the US but ranks second to cancer for admission to hospice. Advanced cardiac disease in its various forms leads to physical, psychosocial and financial burdens for patients, their families/caregivers and the healthcare profession.
Common symptom burdens experienced by ACD patients include pain, drowsiness, dry mouth, shortness of breath and depression.
Complex modalities, including IV inotropes, pacemakers and ventricular assist devices, can help manage symptoms for hospice patients who require high-acuity care.
Hospice care for patients with ACD identifies and honors care goals, manages symptoms including pain, relieves burdens on patients and caregivers, avoids unnecessary suffering, strengthens relationships with loved ones and honors most patients' preferences to die in comfort at home.
Key indicators of hospice eligibility and the need to start conversations about goals of care include a Palliative Performance Score of 50 or lower, decreasing function, increasing symptoms and distress, frequent/ increasing use of healthcare (especially hospitalization and emergency department visits), and the presence of underlying comorbidities.
See upcoming continuing education opportunities through VITAS.
Featured VITAS Expert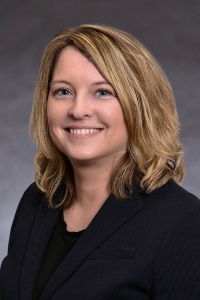 Heather Veeder, MD
Regional Medical Director - Central Region, VITAS Healthcare
Heather Veeder, MD, is a Regional Medical Director for VITAS Healthcare, the nation's leading provider of end-of-life care. Dr. Veeder oversees the medical care and treatment of VITAS patients in their homes, nursing homes, assisted living communities, inpatient units and personal care homes in Texas, Illinois, Wisconsin, Missouri and Kansas. She also consults with patients' attending physicians, supervises VITAS team physicians, guides staff, and serves as a resource to practicing physicians and other healthcare professionals on the benefits of hospice and palliative care for patients and their families.
Prior to joining VITAS, Dr. Veeder held a Hospice and Palliative Medicine Fellowship at the University of Texas Health Sciences Center at San Antonio. Before that, she served as a physician at an Access MD Urgent Care Center in Dayton, Ohio.
Dr. Veeder earned a Bachelor's Degree and a Master's Degree in Music from Wright State University in Dayton, Ohio. She holds a Doctor of Musical Arts Degree from the University of Oklahoma. She has a Medical Degree from Wright State University. Dr. Veeder completed her residency in Family Medicine at Wright State University in Dayton, Ohio. She is a member of the American Academy of Hospice and Palliative Medicine, American Academy of Family Physicians, Texas Academy of Family Physicians and the Gold Humanism Society. She is also certified in Basic Life Support for Healthcare Providers (CPR and AED) and Advanced Cardiovascular Life Support (ACLS).
Webinar FAQs
Get answers to frequently asked questions about our webinars on end-of-life care, including: How do I register for a webinar? What do I need to participate in a webinar? Who can I contact with questions about VITAS webinars?