VITAS Nurses Help Establish Broward Chapter of National Black Nurses Association
12/22/2015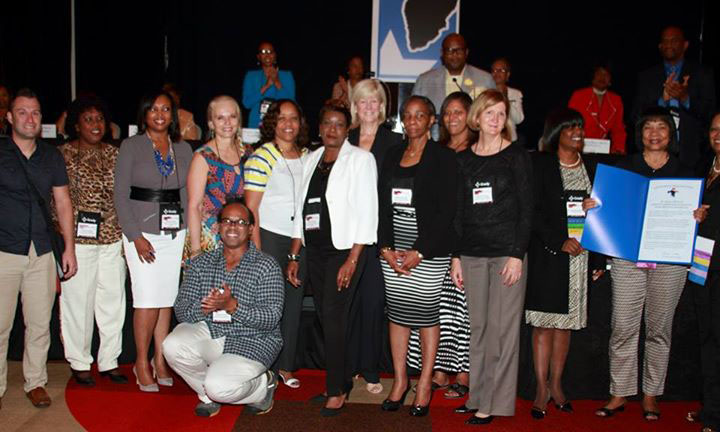 Creating Mentorship Programs
A VITAS-led effort resulted in the establishment of the Greater Fort Lauderdale Broward Chapter of The National Black Nurses Association. Pictured above are the attendees of the event, including Broward County nurses.
A long-time supporter of the National Black Nurses Association (NBNA), VITAS led a successful effort to establish the Greater Fort Lauderdale Broward Chapter (GFLBC) of the organization.
The recently-approved charter of the GFLBC is the first chapter in the history of the organization to be organized and chartered exclusively by hospice nurses.
VITAS Community Liaison and Admissions Nurse Deborah Mizell and VITAS Performance Improvement Specialist Lyn Peugeot will serve as the GFLBC chapter president and vice president, respectively.
The chapter, which is open to all nursing specialties in Broward County, will take the perspectives of nurses to community and government leaders, and will provide professional development opportunities, such as creating a mentorship program to benefit rising leaders.
Sharing Insights from Diverse Communities
"At VITAS, we are proud to witness the start of the NBNA Greater Fort Lauderdale Broward Chapter, which will provide many opportunities for nurses of all specialties throughout Broward County to further their professional and personal goals," says VITAS Senior Vice President of Operations Mary Zalaznik. "I am proud of the leadership Deborah and Lyn have shown by starting the Broward Chapter of the NBNA, and know that the organization will flourish under their watch."
Since Broward County is one of the most diverse counties in Florida—in terms of race, religion and socio-economic status—the need for a diverse workforce of professional nurses that reflect patients' and families' values and cultures, is very important.
"One of the unique qualities of the GFLBC chapter is that it will reflect the face of nursing today," says Deborah. "Therefore, our chapter comprises nurses of all races—black, white, Caribbean and Hispanic nurses among them—and will be open to nurses of all specialties. When we advocate healthcare policies on behalf of our profession, we want to be able to share the insights and opinions from the diverse community of nurses in Broward County."
"Professional development is crucial in the nursing field, and mentorship is an invaluable tool to help nurses grow and learn from their peers," says Lyn. "We are implementing these values into the GFLBC chapter and one of our first initiatives will be to develop a mentoring program that supports nurses with their education goals, as well as personal and professional development."