Webinar for Healthcare Professionals: Dementia Care at the End of Life
Wednesday, June 3
12:00 PM Eastern
To share the clinical end-of-life expertise we have developed since 1978, VITAS Healthcare offers free webinars by experienced hospice professionals to educate on the benefits of hospice.
Leveraging published studies in healthcare literature, this webinar educates professionals on the factors that qualify Alzheimer's and dementia patients as hospice-eligible, and how Alzheimer's disease differs from dementia.
Attendees will learn to define the most common etiologies of dementia and identify complications that are associated with a prognosis of 6 months or less.
The webinar will also examine the value of advance care planning including the CPT codes for professional billing.
Earn one continuing education hour with this free webinar. To earn CE credit, attendees must view the webinar in its entirety, complete an online, post-event evaluation and download their own CE certificate. Participants must register and sign in to the live webinar using the same email address.
Featured VITAS Expert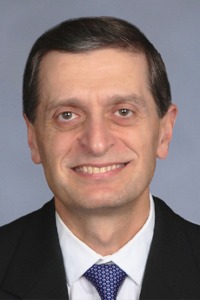 Henri Nammour, MD
Regional Medical Director - Central and North Florida, VITAS Healthcare
Henri Nammour, MD, is a Regional Medical Director for VITAS Healthcare, the nation's leading provider of end-of-life care. Dr. Nammour oversees and leads the medical direction for VITAS in Central and North Florida, including locations in Citrus County and the Nature Coast, Jacksonville, Lake and Sumter counties, Mid-State, Orlando, Pensacola, and Volusia and Flagler counties.
Dr. Nammour is board certified in internal medicine, pulmonary medicine and hospice and palliative medicine. He has 28 years of clinical experience, including his former role as medical director at VITAS in Volusia/Flagler counties, Florida.
Dr. Nammour earned his medical degree from American University of Beirut Faculty of Medicine in Lebanon. He completed a residency in internal medicine at Maryland General Hospital in Baltimore and earned a fellowship in pulmonary disease and critical care from St. Luke's-Roosevelt Hospital Center affiliated with Columbia University in New York City. He is an active member of the American Academy of Hospice and Palliative Medicine and a fellow of the American College of Chest Physicians.
Nurses and Case Managers
This activity is approved for one continuing education credit hour for nurses (RN, LPN, LVN; in California Registered Nurses only), Social Workers and Certified Case Managers. Licensed Nursing Home Administrators in the states of Florida and Illinois may also receive one hour of continuing education credit. Attendance for the entire online webinar, as well as completion of a brief online evaluation, is required. Certifications are made available after completion.
Previous Webinars
Missed one of our webinars or looking for a refresher? You can review our previous educational presentations on a variety of hospice, palliative and end-of-life topics.
Go To Archive
Webinar FAQs