Chaplains, Working at VITAS, Volunteers
A Grieving Hospice Chaplain: On the Receiving End of Compassion From His VITAS Team
Before November 19, 2020, Chaplain Scott Chambers had never experienced firsthand the emotional reactions of hospice patients' family members when they received Memory Bears—cuddly mementos sewn from favorite pieces of a deceased loved one's clothing.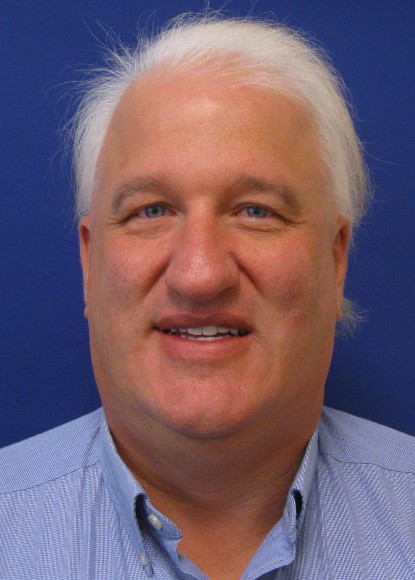 Today, he relives cherished memories and experiences untold comfort, love, and peace when he picks up the blue-and-white-striped Memory Bear that sits at his bedside, made with compassion by VITAS volunteers from his late wife Eva's favorite blouse.
A chaplain since August 2019 for VITAS in Volusia, Flagler, and Putnam counties, Florida, Scott's life changed in an instant on that November afternoon when his wife of 19 years, Eva Christina Chambers, 59, collapsed and died of a heart attack at their home in Port Orange, just hours after he had left to visit hospice patients.
Eva's death left Scott and their son, Thomas, without their beloved wife and mother. Her death also occurred during the COVID-19 pandemic, when in-person visits, funerals, and face-to-face interactions were discouraged.
Scott's colleagues, however, surrounded him and his son with compassion and love, checking in with him frequently and giving him as much bereavement time as he needed.
Then the VITAS volunteers who usually sew several Memory Bears for grieving families did something extraordinary—something that took their compassion and can-do attitude to new heights.
10 Bears Memorialize Eva's Life
"They didn't make two bears for us ... they made 10," says Scott. "My sister got one, my three children got one, our son, Thomas, has one made of Eva's pajamas, I got one, my mother got one, Eva's two sisters got one, and her best friend who was like a sister got one. We are able to share Eva's memory in a real, tangible way."
"I want to become a better chaplain from this experience."
Scott delivered a companion blue-and-white bear to his mother in New Hampshire in June 2021, when the family was able to gather in person for an outdoor memorial service at Eva's favorite spot. Her family members in Canada attended by Zoom because of COVID-19 travel restrictions still in place at the time.
"I didn't even put the Memory Bear in my luggage," Scott says. "I carried it on the plane. I didn't want anything to happen to that bear. My mom was so touched by it, and the one she received is a tribute to Eva's beautiful eyes."
'My Heart Is Healing'
Scott says Eva's death has given him an entirely new perspective on the grieving process, inspiring him to be an even more compassionate, committed hospice chaplain.
"God and I, we're tight, and that helps immensely," he says. "My heart is healing, and for this to happen to me—being in the role that I'm in as a hospice chaplain—has really helped me understand what I'm dealing with when I'm holding somebody's hand who has just lost their husband or wife of 65 years. I'm not bitter. I want to become a better chaplain from this experience and serve our patients and their families better."
The Memory Bears, he says, carry extra levels of meaning and comfort for surviving family members, and he can't say enough about the selfless, passionate volunteers who pour so much love and meaning into each personalized, cuddly creation.
"Memory Bears are one of the best ministries that VITAS does," Scott says.
"When I'm able to speak to a family who is grieving because they've lost the most precious person in their life, I like to tell them about these wonderful volunteers who like to do something meaningful and beautiful by creating a Memory Bear from your loved one's clothing ... something to remember your loved one by, something to help on your grief process, something tangible to help you move on."
Join the Compassionate Team at VITAS
Explore open positions at VITAS, a hospice leader specializing in compassionate care for our patients, their families, our communities, and our coworkers.
Some of our open positions: